CAREER ACCELERATOR MASTERMIND
AN EXCLUSIVE 5-MONTH GROUP PROGRAM
For ambitious, high-achieving Black women in Corporate America who want to not only secure their next ideal jobs, but also land rapid promotions year after year.
SO, YOU ARE FINALLY READY TO BECOME THAT POWERFUL, UPWARDLY-MOBILE CORPORATE LEADER WHO IS:
Highly sought-after inside and outside her company

Able to attract lucrative job offers whenever she pleases

Achieving high-level promotions every year

Highly passionate about her job and career
and
THRIVING in every area of her life!

YOU CAN FINALLY STOP IMAGINING HER AND BECOME HER!
But you're probably thinking, "How is that even possible when I am:
Putting in so many hours at work but still feeling invisible.


Not sure how to land my next job because though I have been applying, I'm not getting the attention I need from my ideal employers.


Watching others at my company move up the ranks while I get more "responsibility" and little recognition or financial reward.


Making less money than my peers. Yes, I'm "OK" financially, but I could be doing so much better.


Not very excited about the work I do.


Dealing with a micro-aggressive work environment that often affects my confidence and my emotions."
THIS IS NOT THE DREAM!

YES, I AM CONSIDERED "SUCCESSFUL" BY MOST OF THE POPULATION, BUT I KNOW I CAN ACHIEVE SO MUCH MORE.
How much longer could you continue this way? You could continue to do it the hard way and just keep waiting for something to change.
OR
You could take an action that will put you on the track to becoming that enviable woman who is 'killing it' in her career and life.
You already know you were meant for so much more than your current title or pay grade.
» What if you had someone who has successfully transformed her corporate career guide you in doing the same in yours?
» What if you had someone help your next promotion — whether that be at your current company or at a new, ideal employer?
» What if you had someone who "gets it" show you step-by-step exactly what it takes to succeed in your career without driving yourself crazy?
Wouldn't that be a HUGE GAME-CHANGER?
DON'T WORRY - I GOT YOU!
You may still be optimistic about getting that next promotion;
Or you may be getting jaded and about ready to throw in the towel;
Maybe you're doubting whether it's even possible to be happy in a Corporate job and you are wondering whether it's even for you;
I know how you feel because I've felt that way, too!
HI! I'M STELLA ODOGWU.
I empower high-achieving Black women in corporate careers to transition to their ideal careers and continuously shatter the glass ceilings they encounter.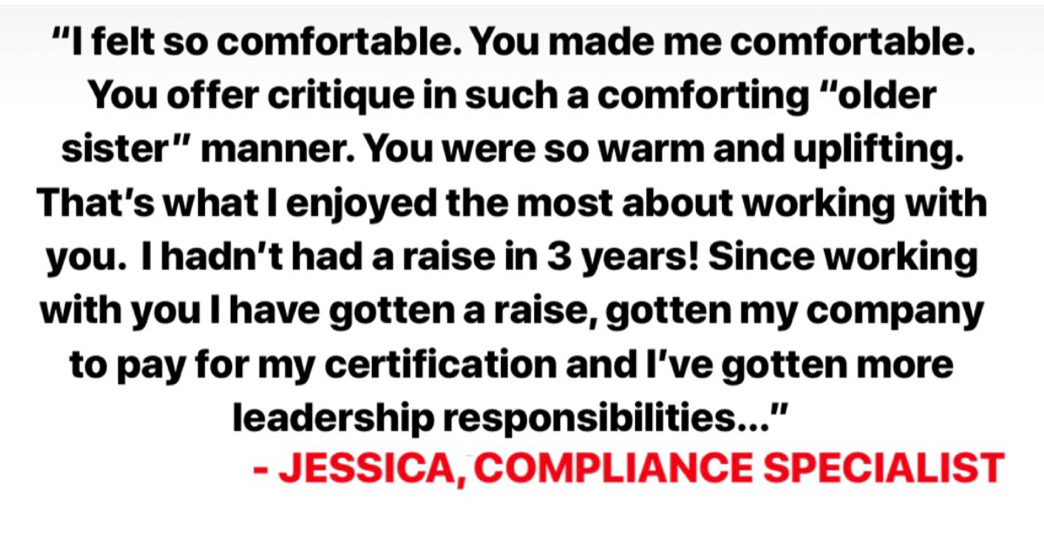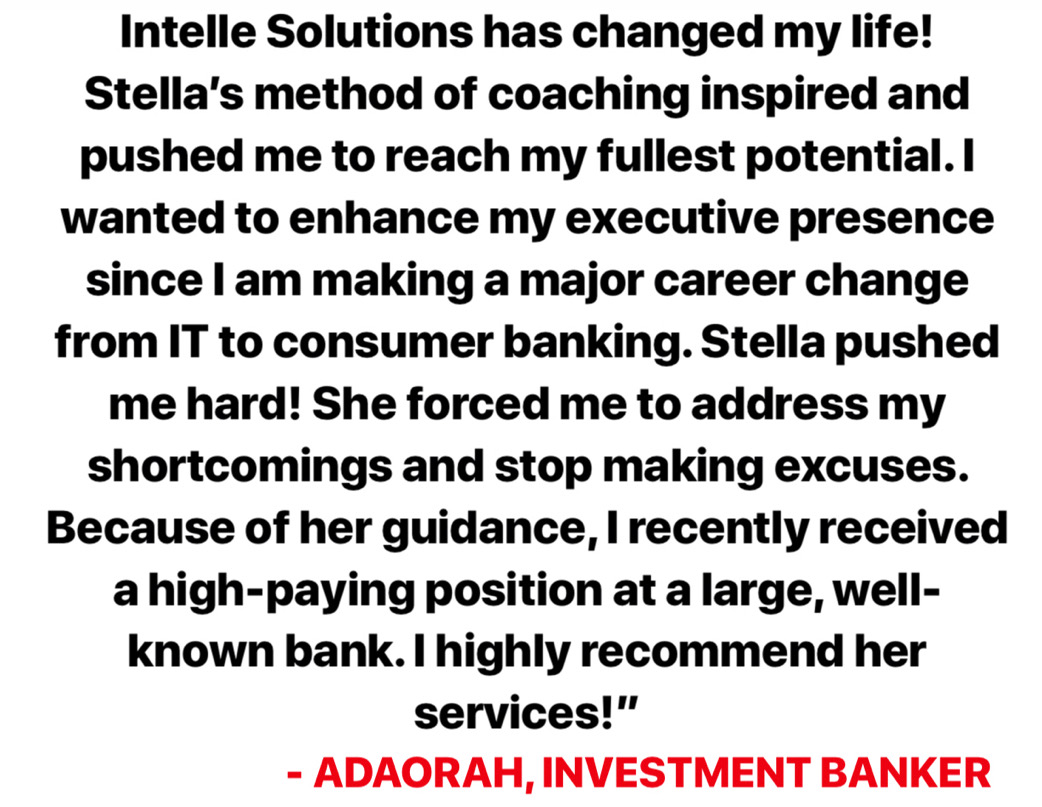 MY STORY
Earlier in my career, I struggled with so many barriers:
I lacked confidence and dealt with impostor syndrome. I always wondered if I was qualified for every opportunity I got. I found it difficult to speak up whether in a meeting with senior leaders, or advocating for myself.


I was so grateful to have a job that I never negotiated…until I found out I was working the hardest and making the least on my team!


I was being passed over for promotion time and again, while those who weren't necessarily putting in the hours were advancing.


I was the only Black woman on my team and I was constantly feeling alone and dealing with micro aggressive (offensive) behaviors, comments and jokes.


I was always the last to know! Whether it was any upcoming trainings, exclusive career-defining opportunities or the next office happy hour, it felt like I was out of the loop.


And to top it all off, it was all affecting my personal life. I not only became unhappy, but the stress affected my self care and health. I would buy a ton of healthy veggies on weekends only to eat fast food all week. I was paying for expensive gym memberships that I never used. I would literally pass out from mental exhaustion on my couch after work, with "ratchet" TV in the background to keep me from thinking or feeling.


I saved money to take vacations that I either never went on or couldn't fully enjoy because I dreaded coming back. I was getting depressed and honestly, because of my independent personality, I didn't want to admit that I needed help!

FINALLY I SAID, ENOUGH IS ENOUGH!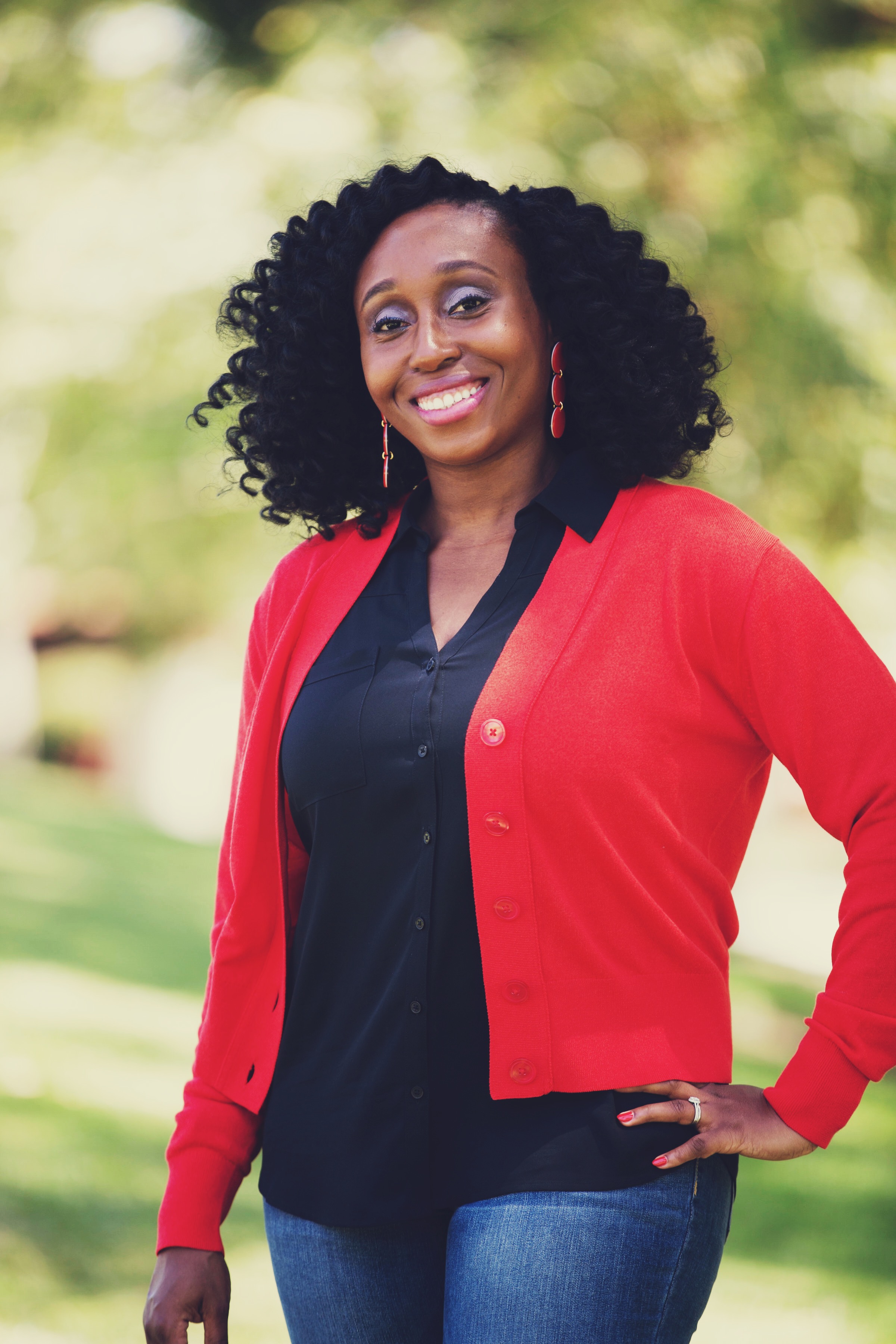 Through the help of coaches, mentors, and some radical self-work on my mindset, it all began to change!
I landed my first BIG promotion that year and went on to lead global teams in 5 countries!
I tripled my salary.
I built a solid network that advocated for me throughout my career.
I traveled to more countries that year than in my entire life combined.
I lost weight.
I became truly happy!
NOW IT'S YOUR TURN!
If you DO NOT make a change right now, here's what will happen:
• You will keep settling for a job or role that is draining you.
• You won't be able to develop the skills and strategies needed to thrive in Corporate as a Black woman and it will CONSTANTLY feel like a struggle.
• Work-life balance will continue to be just a buzz phrase for you.
• AND YES… You will DEFINITELY be leaving money on the table: money you could use to pay off your debt, travel more, buy a house, invest in your children, or build your savings.
BUT…
I know this isn't your story because you are an ambitious, career-focused, action-taking woman. You know there is more for you and you are determined to get it. You are not OK with spending another work week in the same rut without a plan and clear actions to improve.
You are the exact reason why I created this program!
CAREER ACCELERATOR MASTERMIND
AN EXCLUSIVE 5-MONTH GROUP PROGRAM
For ambitious, high-achieving black women in Corporate America who want to not only secure their next ideal jobs, but also land rapid promotions year after year.
WITH THIS PROGRAM, YOU RECEIVE:
✓ Exact strategies that will accelerate your corporate career and land you your next promotion internally or externally.
PLUS, YOU GET THE BEST OF BOTH WORLDS.
✓ Exclusive membership into a thriving, motivated and ambitious group of like-minded women who are working on similar goals as you.

These women will motivate, inspire, and encourage you to reach further and smash your goals!
AND
✓ Individual power sessions with your coach to dive deeper into more personalized topics.
PART ONE: Secure Your Ideal Job
Begin here if you are ready to land your next ideal job in as little as 8 weeks.
PART TWO: Career Success & Wellness
Begin here if you are ready to land your next promotion in as little as 6 months.
EVERY SUCCESSFUL PROFESSIONAL HAS A COACH.
Even CEOs of multi-billion dollar companies at the height of their careers have coaches! We all need a coach to help us break through barriers, tap into our real potential and achieve goals we once thought impossible.
WITH ME, YOU GET A COACH WHO:
Has achieved these goals herself and "gets it".



Gives clear, step-by step strategic guidance and holds your hand as much as you need.



Builds long-term relationships with clients designed to stay with you as you implement what you are learning.



Is available on demand at the push of a button, thanks to technology!



Is your Ally. Your Confidante. Your Partner.



Gives unlimited, lifetime access to all content.
BECAUSE OF THE HIGH LEVEL OF SERVICE I PROVIDE…
I can only work with a limited number of people at any given time.
So, book your Discovery Call NOW so you do not miss out!
THIS PROGRAM WAS CREATED FOR YOU IF:
1. Success is the only option for you. No 'ifs', 'ands' or 'buts'.
2. You know deep down you were meant for so much more than your current title or role.
3. You are genuinely excited about this program and know this is just what you need.
4. You want to have a career that allows you to live your life in abundance
5. You are motivated and enthusiastic about truly making lasting change in your career and life
6. You are ready to take the reins into your own hands and create the type of career you want
7. You understand the importance of investing in yourself financially and time-wise and are ready to do so
8. With the right kind of support and guidance, you know you are going to "kill it" in Corporate!
THIS PROGRAM IS PROBABLY NOT FOR YOU IF:

1. You are OK with "Shoulda, Coulda, Woulda."
2. You do not believe in investing in yourself.
3. You are very skeptical and do not truly believe that things can improve.
4. You would rather make excuses and blame everyone else.
5. You do not believe in putting in the effort.
6. You are looking for a magic pill.
TRANSFORM YOUR CAREER NOW
The Career Accelerator Mastermind program is only for those who are truly ready to start seeing results now!
***Based on that, this program is by application ONLY***
Spaces are reserved for those who are truly committed to achieving their most fulfilling and lucrative corporate career.
YOUR PROGRAM INCLUDES:
✓ Step-by-Step Modules to help you become a truly accomplished and successful leader in Corporate
✓ Bi-weekly Coaching One-on-One Sessions
✓ Unlimited access to your coach throughout the duration of the program
✓ Step-by-Step guidance and support on all your career challenges
BECAUSE OF THE HIGH LEVEL OF SERVICE I PROVIDE…
I can only work with a limited number of people at any given time.
So, book your Discovery Call NOW and don't miss out!
FREQUENTLY ASKED QUESTIONS
+ How much time do I need to invest in this program?
As I'm sure you know by now, great results require effort. The more seriously you take this program, the better your results will be. I would recommend between 3-5 hours a week to start.
+ I am not earning as much money as I'd like right now. I'm not sure if I can afford to invest…?
It sounds like you cannot afford NOT to invest. If you are truly serious about achieving the job and career that will lead to your ideal compensation package, then you have every reason to invest as soon as possible.
+ What happens once I'm accepted into the program?
Once we've both decided that we're a great fit for each other, you'll make your payment and schedule your first session so we can begin seeing results!
+ Can we still work together even if we don't live in the same city?
Yes! Each session will be over Skype, Zoom or phone so we'll be able to connect anywhere, anytime.
+ What if I have a question or need help in-between our sessions?
You have unlimited access to me for the entire duration of the program. You can send me as many questions as you'd like.
+ Do you accept payment plans?
Yes! Once you apply (during our complimentary session) we can discuss which payment options work best for you.
+ This program is perfect for me! How do I start?
Yes! I can't wait to work with you to achieve your goals. The next step is to apply for a complimentary session so that we can discuss what's possible for you!
In this FREE call, we will dive into:
- Your big career goals
- Your current career situation and challenges
- Clarity on what success looks like for you
- Exactly how we're going to get you results
Having a successful career is a huge part of having a successful life.
It's time to take action to create the career and life you truly want!